Most event marketers are facing an uphill battle right now, trying to build momentum for their event registrations. Sure, you may have seen a social post or email about their event, but did that compel you to drop everything and register for it? 
Most likely not. 
In fact, numerous studies have shown that registrants now need between 5 to 15 touch points before they commit to an event.
As a marketer, you're doing your best to reach your audience in all the right places. 
But what if everything you're doing on your own just isn't enough?
On average, Snöball's customers get 30% more event registrants than their peers. 
Considering these events span every industry and continent, what makes them different?   
The single biggest difference is that planners who Snöball their events are no longer marketing them alone. They're leveraging the power of their event community, including those with the most persuasive voices, their event speakers.
"More than 80% consider trust a deciding factor in their buying decisions." 
Your speakers are trusted figures in your community. Leveraging their trust and circle of influence will add more social proof to your event.
In his insightful Event Industry News article, Adam Parry outlines numerous reasons why event speakers are positioned perfectly to increase registrations for events, including the "Principle of Authority". Your audience sees your speakers as figures of authority, through their demonstrated expertise, willingness to help, and their ability to speak clearly and effectively. 
So how exactly can you work with your speakers to increase registrations for your events?
1. Strong speakers have loyal audiences
Your speakers have crafted and honed their message to resonate with their own audience. With some planning, you can leverage their influence and relevance to attract their audience to your event. Start by analyzing your speakers' social media presence.
Which platforms are they most active on?

How frequently do they post there? 

What's their voice? 

Most importantly, does their audience engage with their content?
If so, you're seeing signs that they're a trusted and respected voice for their audience.
The next step is to analyze how well your speakers' audience overlaps with your target event audience.
What industries are they in? 

What are their job titles?

What are their interests? 

Who else do they follow? 
Thymebase suggests hiring speakers with similar audiences for maximum synergies. 
You may even find that many followers of one potential speaker follow another speaker.. 
Maybe you should consider hiring both for your event.
2. Help your speakers reach their audience
Your speakers like bringing their audience to their events. It reinforces their importance and popularity. But you have to make it easy for them to do so. Especially if your speakers have full-time day jobs in addition to their professional speaking commitments.
With Snöball you can provide each speaker for your event with their own customized messaging and landing page to share via social media, email, and even Slack.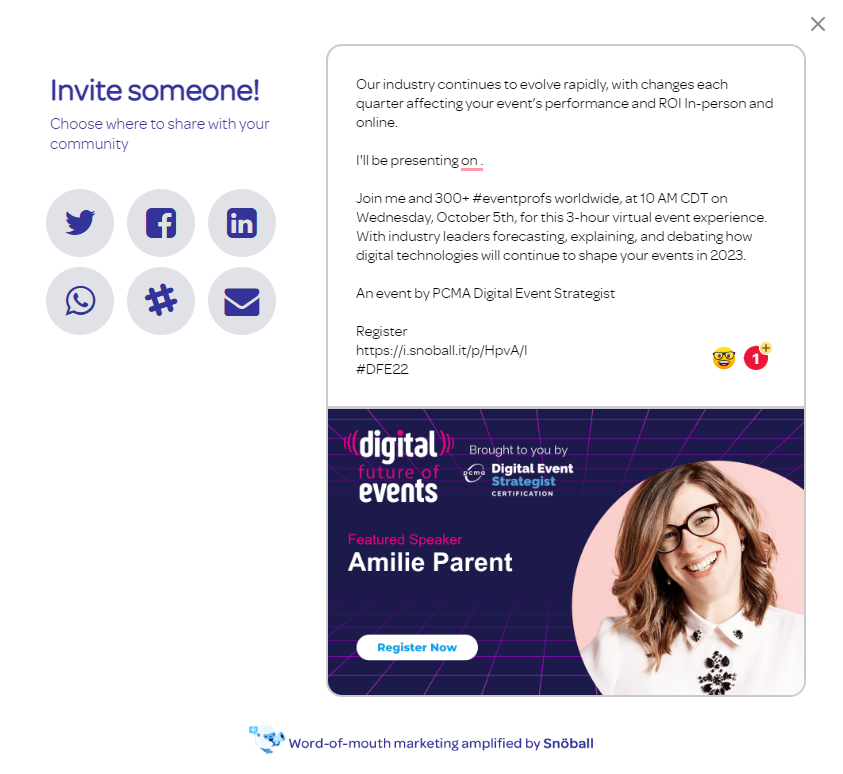 These sharing widgets also help keep promotions for your event on-brand, since they were created from your marketing assets.

Best of all, referrals from each speaker are tracked and visualized as "snöballs" so you can track how well each speaker's promotions are performing.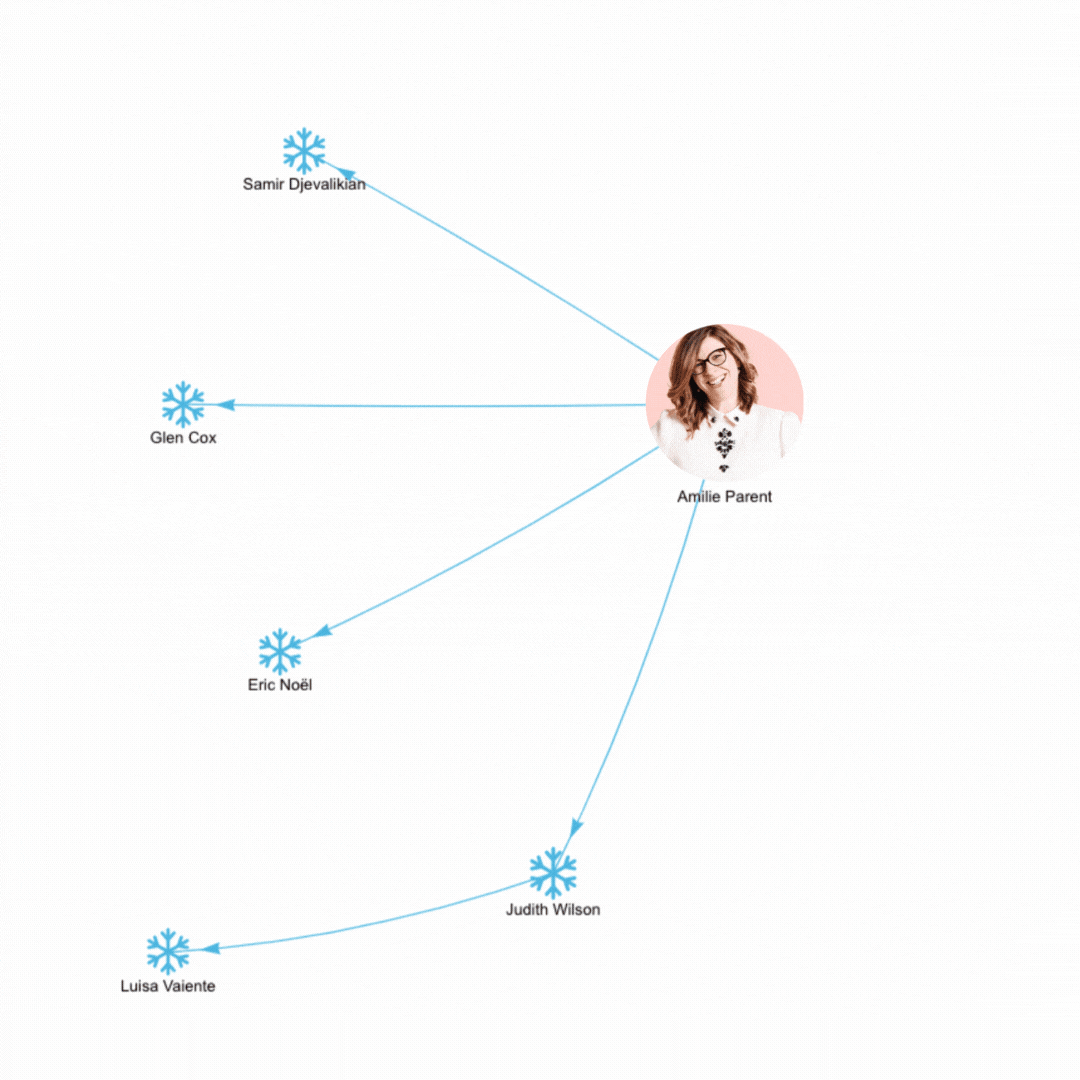 Want to encourage even more sharing of your event's promotion?
Incentivize and gamify event promotions by event speakers. Speaker-based event promotions have been working since before the pandemic.

Here's an example from SURGE 2019 demonstrating how Amanda Kaiser helped Snöball their event.
3. Let your speakers do the talking 
Your speakers spend a lot of time preparing for your event. They create rich content that they hope will engage your attendees before, during, and after your event. They're a trusted member of their community and their voice is valuable.
Feature your speaker directly on their Snöball landing page with a short pre-recorded video. Videos that work well hint at what the speaker's session is about, and more importantly, why this topic is important and/or impactful for them.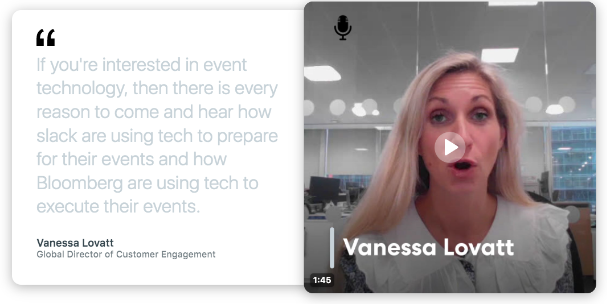 Speakers are essential for raising FOMO (Fear of Missing Out) for your event. Especially with prospects who are on the fence about registering. Because your speaker's message and/or landing page validates the importance of your event, and hints at which types of attendees will likely be there.
This was the case for PCMA's Digital Future of Events ("DFE"), a 100% online conference where digital event experts discussed how virtual and hybrid events are evolving. While numerous speakers promoted their role in the event, one stood head and shoulders above the rest.
Amilie Parent is the President of Showcare and an ex-Board Member for PCMA. Her online audience overlaps almost perfectly with PCMA's member base of  association event planners. When Amilie's team Snöballed her session at the event, more than 500 visitors came to her landing page.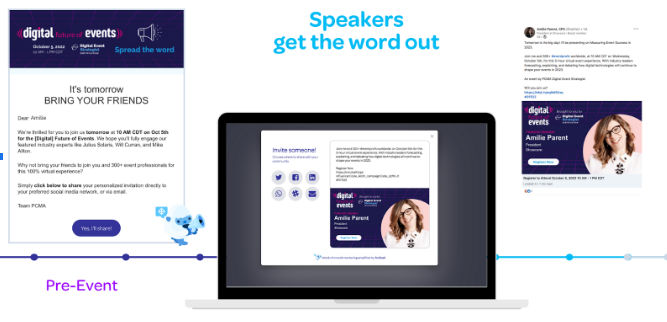 Some registered immediately, others converted later via follow up emails and posts. Clearly, Amilie brought her peeps to the event.
Let your speakers do the talking for your event.
Help them mobilize their audience with convenient, personalized Snöball social shares and emails.
4. Don't promote your event alone
Consumer products have been leveraging spokespeople and influencers for decades. Isn't time for us, as event marketers, to tap into the power of word of mouth marketing powered by our event speakers? 
Our customers at Snöball certainly think so, and their registration numbers speak for themselves. Reach more audiences, with greater touch points, and more FOMO, by partnering with your event speakers.
Let your speakers do the talking for your event. 
You might find, like we have, that they're pretty good at it! 
If you're interested in finding out more on how to get your speakers to promote your event, schedule a 17-min chat with us!