Attendee Referral Marketing is a powerful way to increase ticket sales and generate more buzz around your event. According to Influencer Marketing Hub, 91% of consumers are more likely to trust the recommendation of their peers over traditional advertising when it comes to making purchasing decisions, and this actually makes sense (Mileva, 2022).  
By incentivizing your event influencers to refer their industry friends and network to your event, you can tap into their trusted network and reach new potential attendees to your event. Attendee Referral Marketing also allows you to discover a new audience you wouldn't have otherwise.
What is Attendee Referral marketing?
An attendee referral program is a word-of-mouth marketing strategy that encourages registrants to advocate on behalf of your event and share their event experience with partners, colleagues, and friends.
The purpose of an attendee referral program is to attract new registrants to your event. By asking registrants to think about people who would benefit from your attending your event, they'll refer registrants that are highly qualified for your event. (Hubspot, 2023).
Getting started with Attendee Referral Marketing
Let's go over some of our tips on how to create an effective attendee referral marketing program that results in more sign-ups for your event:
How to decide on the referral incentives that will motivate your attendees to advocate for your event?
How to choose the right channels and tools that will enable your attendees to share your event easily?
How to communicate your referral program clearly and frequently to your attendees?
How to monitor and measure the performance of your attendee referral program?
How to reward and thank your attendees for their referrals?
By following these steps, you'll be able to create an attendee referral program that boosts your event awareness, engagement, and increase revenue. 
Here are the 10 proven ways to incentivize and reward your event influencers and increase attendance using attendee referral marketing:
1. Enable Attendee Referral At Registration
The first step to triggering an attendee referral is as soon as someone completes signing up for your event. Once someone signs-up for your event, they are clearly a fan. It is now your chance to turn newly event registrants into event promoters. Implement a referral promot that encourage newly registrants to invite others to join them using a unique referral link. This strategy capitalizes on their excitement and enthusiasm and increases the chances of them promoting your event to their network.
This Snöball social sharing widget offers registrants the option to share their attendance to their preferred social channel among all 12 offered (Twitter, LinkedIn, WhatsApp, Slack, Instagram, Email, SMS, Facebook, Teams, Messenger, Zalo and Line).
2. Keep Your Referral Emails Focused with One Call-to-Action (CTA)
Event marketers consider email marketing as one of their main strategy to promote their event. One of the top 2 reasons people attend events, is reconnect with other colleagues and connect with new ones. Why not emphasize the importance of these connections by prompting attendees to refer their peers? Rather than going alone, they get to invite their peers to tag along. 
In the below email example, Ansys Ideas communicated with their confirmed attendees with one simple 'ask': Why Go Alone? Invite someone! 
Notice the email had one call to action (CTA). It's simple, straight forward and the recipient is expected to do one thing and one thing only: "Spread the Word". That simple single CTA helps get better engagement from this campaign.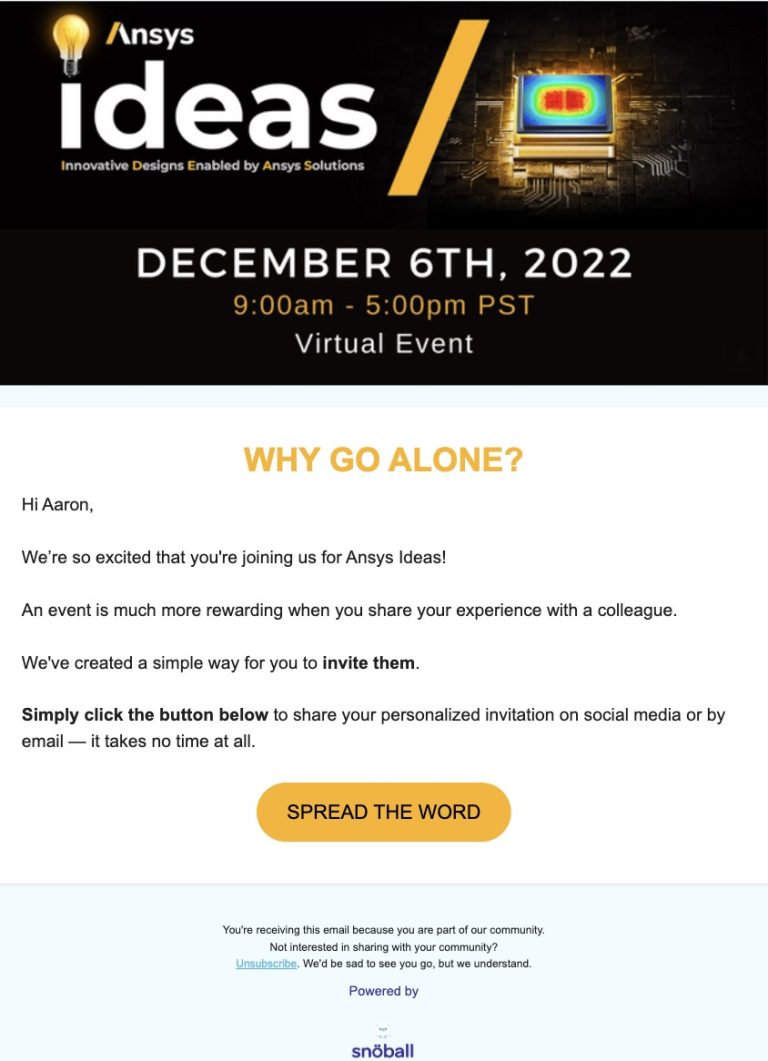 3. Personalize Social Share Cards and Landing Pages
Your event influencers will wonder 'what's in it for me'?
Make them feel special by putting them front and center as part of their unique speaker and/or exhibitor promotional kit. Use tools like Snöball to automagically generate personalized social share cards and landing pages at scale for every speaker and exhibitor. Co-brand these promotional assets using their name, headshot and video invite. It's a win-win.
Eurostar 2023 personalized over 68 speakers' landing pages and ensured what speakers shared is on brand and easily tracked speakers' referrals to the event.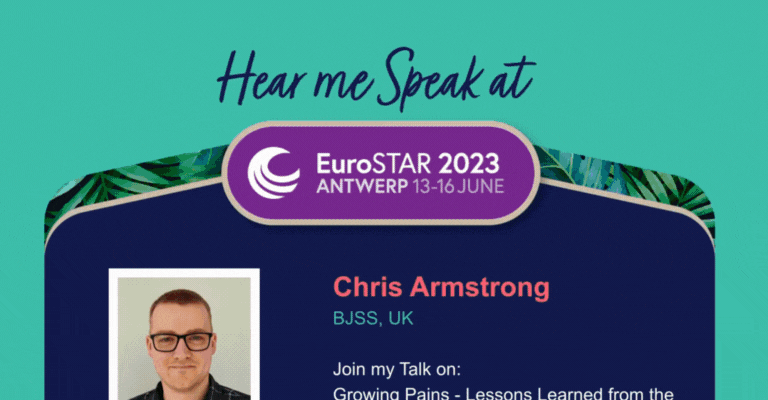 4. Reward Top Referrers with Monetary Incentives
Offer a valuable reward like an Amazon Gift Card or a MacBook Air to those who refer the most attendees to your event. This will motivate your event influencers to spread the word and invite more people to sign-up. Seamless Middle East 2023's Snöball attendee referral campaign added 6,478 new registrants by offering incentives, a 21.23% increase in attendance.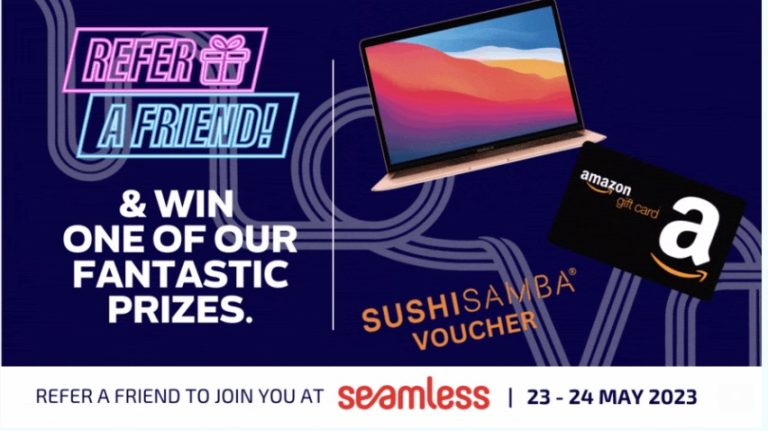 5. Reward Top Referrers with Future Event Savings
Offer discounts for future events to the top influencer who refers the most attendees to your current event. This will create a sense of loyalty and retention among your event attendees, as well as secure the audience for future events.
6. Reach Out to Event Registrants with Interactive Email Banners
Contact your event registrants and ask them to invite their network to your event. Showcase the incentive to share using animated gif email banners that contain the referral link or discount code. This will make your email more eye-catching and persuasive.
Creating such designs are more accessible than ever thanks to web applications like Canva.

7. Reward Top Referring Sponsor or Exhibitor
Give the top referring sponsor or exhibitor additional ad space or a speaking slot at the event, encouraging them to continue referring their clients. This will help you leverage the network and influence of your sponsors and exhibitors and create a win-win situation for both parties. See the below example: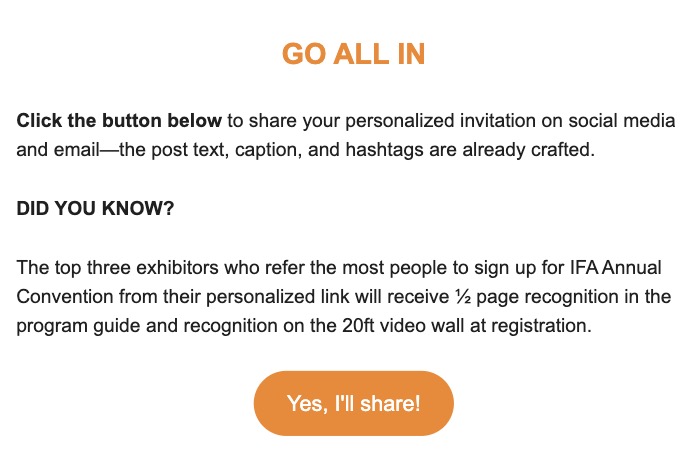 8. Create a Leaderboard to Encourage Competition
Create a leaderboard system to showcase the top referrers and create a sense of competition among attendees. This will help you gamify your referral program and motivate your event influencers to refer more people. You can also offer prizes or recognition for the top referrers on your website or your social media channels.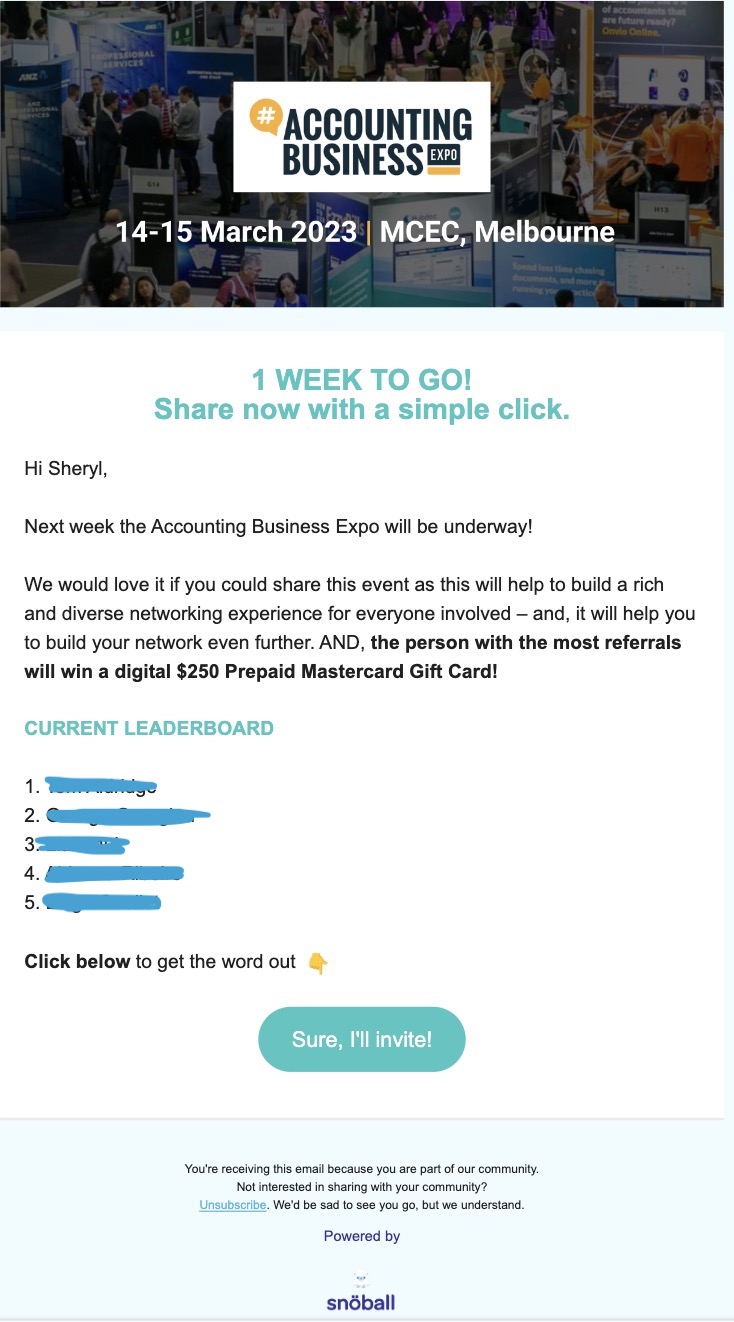 9. Make Event Influencers Feel Special with Personalization
Snöball's event marketing solution enables you to create personalized social share cards and landing pages for your event influencers in bulk. You can use their name, photo, testimonial, or even personalized videos of them to make the share cards and landing pages more appealing and authentic. This will make your event influencers feel special and valued by your event.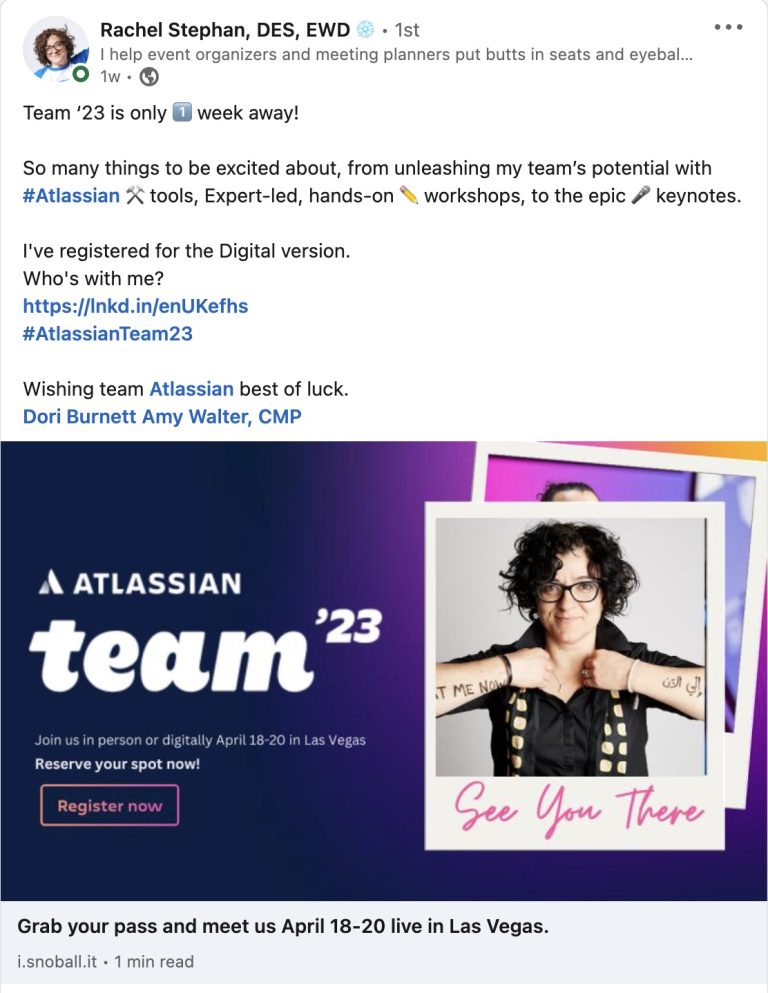 10. Track and Measure Your Attendee Referral Marketing Results
Track conversions and incentivize referrals with attendee referral marketing solution like Snöball.  It is critical to measure the impact of your attendee referral programs so you can optimize it for better results. It can also help you identify your Most Valuable Advocate (MVA).
Snöball's advanced analytics provides visual reports showing the number of conversions, social source of referrals, impressions and most popular sharing channel among your audience etc.
By using these 10 proven strategies to incentivize your event influencers to increase attendance using attendee referral marketing, you can create a successful attendee referral program that boosts your event growth and reach. 
Interested to learn how Snöball can run an attendee referral program for your next event that could result in 20X ROI?
Schedule a 17-min chat.