From your call for speakers to your final session, your entire event experience brings a community together. If only for a few hours or a few days. 
Our founder and CEO, Rachel Stephan sat down with Adam Parry, at Event Tech Live to discuss Event Marketing tips for Event Profs.
1. Get more people to register for an event earlier
"With Snöball we empower people applying to speak at the event to be able to share that they have submitted content (long before the event start date). This is a great way to get the event on peoples radar and get other submissions in. The more submissions (for content) you have, the better choice you have to pick the best speakers and the most relevant content your attendees would be most interested in."
Adam also explains how getting amazing content for your event is one of the most important things to do and showcasing this early on leads to an uptick in registrations long before the event start date.
Another important point is, don't be afraid of people registering close to your event as this is very normal. Early registrations are great and showcasing the value of your event earlier and creating FOMO will lead to earlier registrations. Adam also explains how important looking at your event year-on-year trends are so you can focus on what worked well and got you more registrations earlier. Adam says, "(it's important) To be able to analyze when you pushed out a campaign by social, how much of a percentage increase that had so you can do more of that in the future. You can't force people to register but you can keep your brand in the forefront of minds so when they are ready to register it is there for them to do that."
In conclusion, getting great speakers, great content, showcasing exhibitors, and starting social campaigns early on will lead to an uptick in early event registrations. Also, being composed and not worrying about late registrations is important as this is very normal, trust in your marketing efforts.
2. Invite your attendees to promote your event
As an event organizer, understanding the power of referral marketing can be game-changing for getting more butts in seats at your event. Referral marketing taps into the strength of personal connections and trusted recommendations. When attendees, who have experienced your event firsthand, refer it to others, it carries a great level of credibility and influence. These referrals have a profound impact on the decision-making process of potential attendees, leading to higher conversion rates and shorter registration cycles.
By encouraging attendees to share their positive experiences and recommend your event to their networks, you build brand advocates, and foster a more dedicated following. These personal connections go beyond traditional advertising, reaching individuals who are more likely to trust and engage with recommendations from people they know, respect, and trust.
Furthermore, referral marketing brings value to your event in terms of targeted reach and cost-effectiveness. Rather than casting a wide net with generic marketing efforts, referrals enable you to tap into a highly relevant and interested audience, Adam Parry explains how Snöball helped Event Tech Live with this in our webinar here.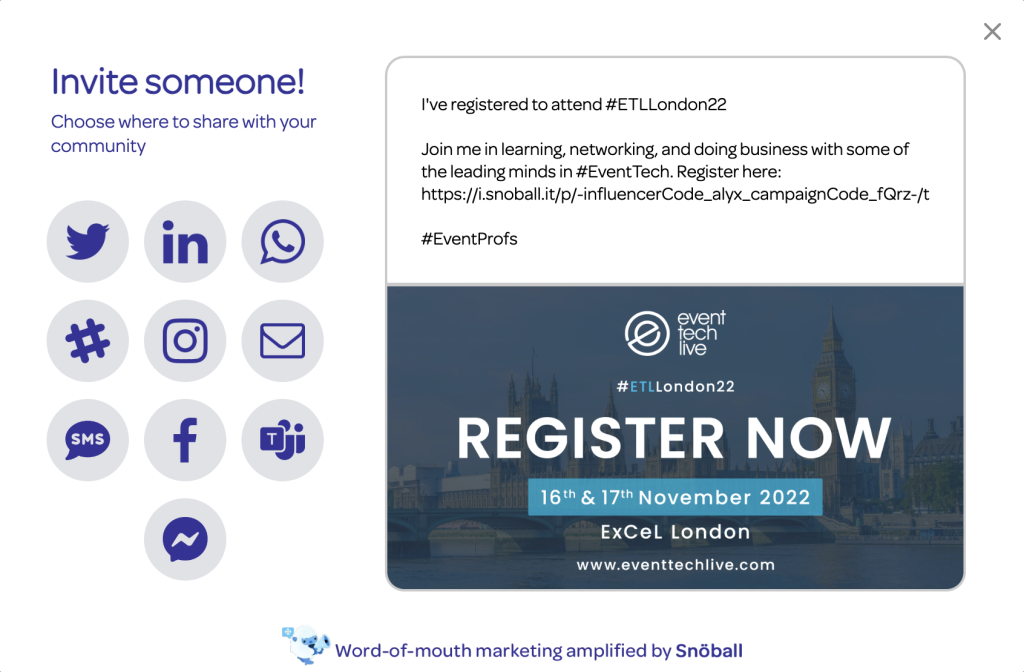 "Instead of spending $5k with google, it would be better to take that money and incentivize the sales teams and attendees with monetary benefits for inviting other people." "In marketing, people are the most powerful tools, so incentivizing them has great results." As stated in the section above, these referrals reach individuals who are more likely to trust and engage with recommendations from people they know, respect, and trust. Spending that money on Google ads will yield less results for a lot more money, and usually these people are cold leads and don't know anything about your event or the value it provides.
People trust people, so let them talk about your event in a positive way and others will follow. This will create a snowball effect leading to more event registrations, incentivizing these people will only accelerate the process.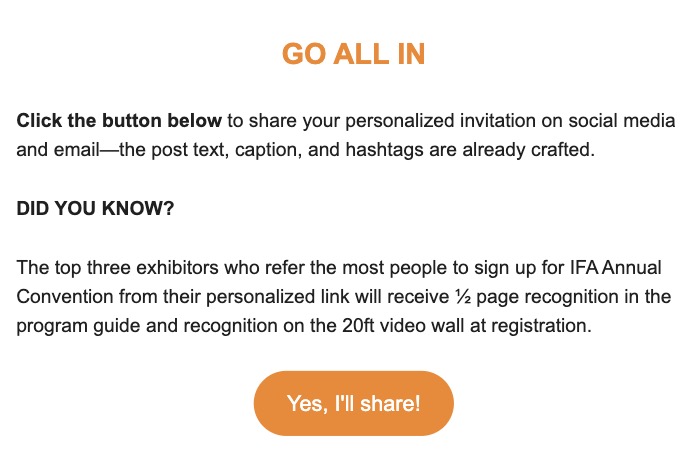 4. Build and leverage a community
Building a community holds significant value as an event organizer. Where should I start to build a community? This is a great question. Finding where your audience spends the most time and interacts is very important because you want to spend the most time and resources there. If 70% of your audience communicate through Whatsapp for example, then putting more resource there would be a great idea instead of spending time, money, and resources on Facebook. Snöball's data identifies what platforms your participants use the most which helps shape your community engagement and marketing efforts to get even more engagement and attendance for your future events.
After seeing this data for Event Tech Live within Snöball, Adam says; "Collecting phone numbers in future means we could get more out of Whatsapp". This is why analyzing your participant data can be so powerful for your marketing efforts.
To summarize, there are many different things we recommend you do to market your event effectively, from using your attendees to market your event, through to building and leveraging a community by using data. If you use the tips Adam and ourselves have stated above, we are sure you will be on your way to event marketing success. We hope you gained some insight, and got value out of this blog post and webinar.
Click here to see how we can Snöball your next event like we did with Event Tech Live.
Already in? Book a 17-min chat with us here.
Who is Adam Parry?
Adam Parry is the co-founder and editor of the event industry's global online magazine, www.eventindustrynews.com (EIN).
As an avid technology evangelist, Adam coupled his 10+ years' experience in the event industry with his passion for the latest tech trends to co-create Event Tech Live. Adam is also the co-organiser of the Event Technology Awards, a world-renowned awards scheme showcasing the very best in event technology.
You can watch our on-demand webinar with Adam here.